Rugs
Chemical-free Organic Cotton, Hemp and Wool Rugs & Carpets
All our natural fiber rugs are PFAS-free. PFAS are highly toxic substances that are thought to cause cancer, immunodeficiency, low birth weight and developmental deficiency in children. PFAS have been used for decades in conventional flooring products because they make textiles and rugs stain-resistant, water-proof, wrinkle-proof, and more. You can't have those magical benefits for free - the choice you have is between a too-good-to-be-true conventional product that damages the environment and all loved-ones living in your home; and a pure, organic, natural fiber rug that you need to take care of and protect like we did for hundreds of years. You won't have to worry about those hidden dangers, and you get to enjoy a perfectly natural character-piece that becomes part of your life!
"I am amazed at the breadth of your product offerings, especially the unique organic cotton, hemp and linen rugs and floor coverings you offer, in addition to your other products. I love that I can just go to you to outfit my whole chemical-free home. I support your vision and mission 100%." Jenny K.
Featured
Best selling
Alphabetically, A-Z
Alphabetically, Z-A
Price, low to high
Price, high to low
Date, old to new
Date, new to old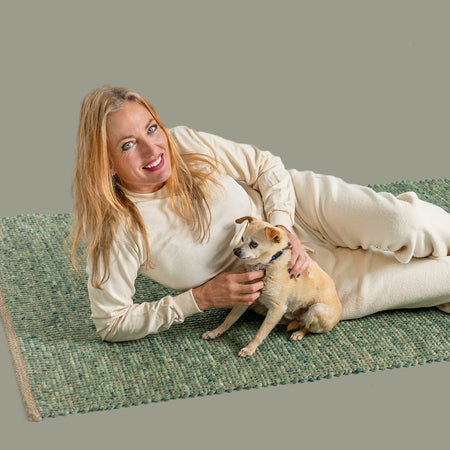 Made on a heritage European loom. 100% natural and organic. 100% safe for people, kids, and pets. PVC-free. BPA-free. No dioxin. No formaldehyde. No...
rg8100-1
BedBath
Entire Store
Home Sweet Home
Living Room
Rugs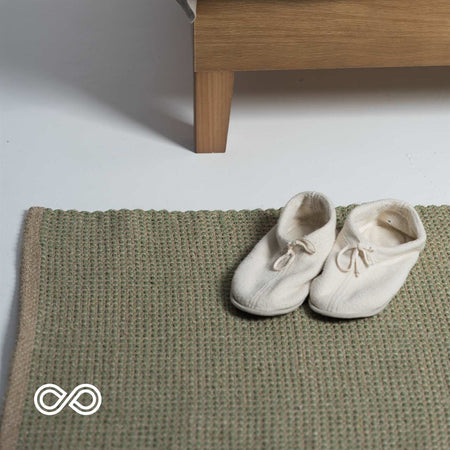 IngledewPFAS-free. PVC-free. Chemical-free. Many colors. Sizes ranging from 2.3'x4.7' to 10'x13.3'. This item is discontinued and available while supplies last. We will continue to make the...
Organic-Cotton-Hemp-Rug-0006
BedBath
Entire Store
Home Sweet Home
Living Room
Rugs
Hand-woven organic hemp rugs. Made in-house at our European Atelier. Sweatshop-free. Sizes: 4'x7', 6'x5.5', 6'x8'. Colors: Fiber-reactive bio-degradable dye Earth Brown, Burgundy, Green. Closeout -...
Woven-Hemp-Rug-0045
Bath Mats
Entire Store
Home Sweet Home
Living Room
Rugs