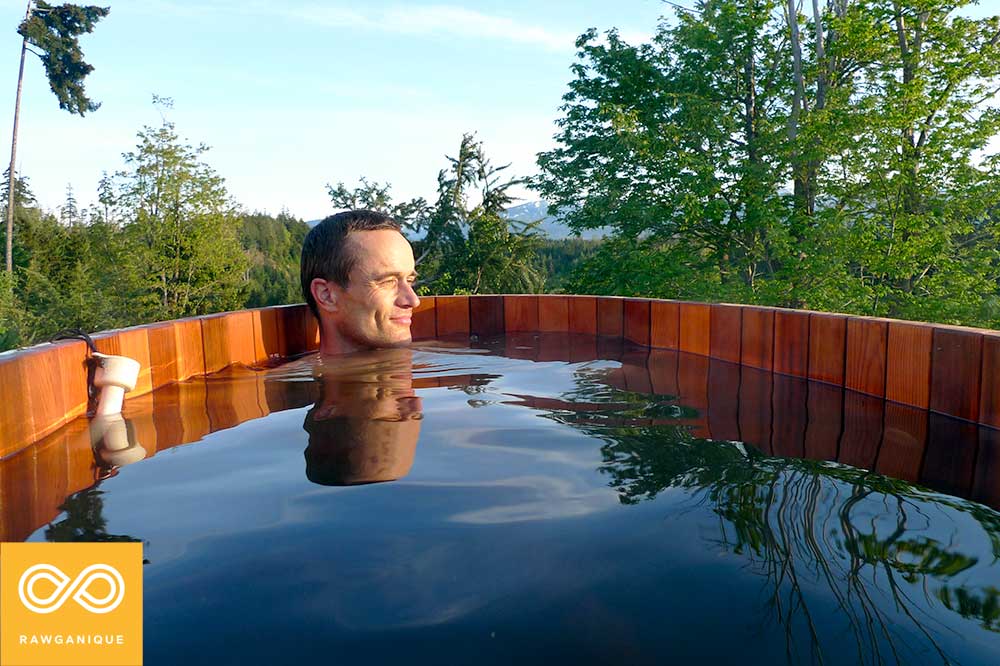 Wood-fired Cedar Ofuro Hot Tub
Japanese Ofuro with Chofu Heater

The joys of hot tub living have to be experienced at least once in a lifetime.

Cedar Outdoor Soaking Tub (Japanese Ofuro) with Wood-fired Chofu Heater

It feels great to soak away tired muscles at the end of a long day in the garden. And there's nothing more wonderful than a long soak in the cedar hot tub in wintertime when it's drizzling and cold. Our cedar hot tub holds 150 gallons, which makes it easy to change water frequently, which in turn eliminates the need for any chemicals common in most hot tub settings. It takes a couple handfuls of 2-inch hardwood sticks about an hour and a half to heat the water to the perfect hot tub temperature of 106 degrees. The clever Chofu heater uses thermal convection to circulate water so there is no need for a pump, which is perfect for our off-the-grid lifestyle. Wow, it really works! Two people can bliss out to the sunset and leave the world behind. We hand-oiled the outside with organic hemp oil and tung oil to bring out the grain and the darker shades of the Western Red Cedar.

The water stays hot throughout our hour-long soak. With the 2-inch cedar lid closed tightly over the hot tub, the water is still over 100 degrees Fahrenheit in the morning. It takes a lot less time to heat the water up the next day, so it's a good excuse to soak in the Ofuro everyday. Cool, isn't it? The lifespan of 100% western red cedar hot tubs is 25 years, thanks to the tannins in the cedar that act as a natural preservative without any need for chemicals.

Steam rising from the parted lids of our Japanese Ofuro (soaking tub).

The sunset is spectacular, especially when viewed from inside the hot tub.
106 degrees is where it's at.
Sit back, relax, and let the hot water melt away tension and soreness.
We use dried broom branches to start the fire (broom is an abundant weed around here; thanks to the oils in the broom, broom branches burn quickly and hotly), then we throw in twigs and 2-inch pieces of hardwood. The trick is to burn hot and steady for an hour and a half. A couple of armfuls of wood are usually all it takes to heat the water to 106 degrees Fahrenheit, the perfect hot tub temperature.
This shows the simple plumbing required. The top part of the chofu heater is filled with water. The chofu pushes the heated water into the top pipe by thermal convection and cold water gets sucked into the chofu via the bottom pipe to be heated. A very simple and efficient design. The stainless steel Chofu stove is built for the great outdoors